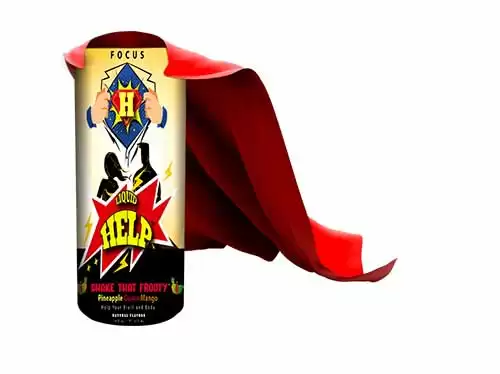 Barkes Fitness
Barkes Fitness offers a 24-hour private gym, personal training sessions, and online training to help clients achieve and exceed their fitness goals. The trainers take pride in creating a judgment-free environment with the amenities of a big-box gym and the comfort of a private atmosphere. Workout equipment includes deadlift platforms, climbing and battle ropes, tires and sleds, rogue boxes, mono lifts, an outdoor workout area, and more. Online training guides include a nutritional plan as well as a detailed workout program.
Looking for an energy drink that will make your taste buds come back to life, while also bringing you back to life? Then we suggest you try out Help energy drinks. For those times when you feel tired, unable to focus, and lack alertness, Help energy drinks will literally bring you back to life, and also help to improve your mood. With a safe amount of caffeine, these energy drinks are simply the best!
Better Bodies, Inc
Better Bodies, Inc has been a prominent part of the Indianapolis fitness community for more than two decades. The trained staff is dedicated to helping clients achieve a range of fitness goals through physical therapy, nutritional counseling, personal training, or group fitness sessions, swimming, or in-home training. Fitness classes include Barre, Abs/Back, boxing, boot camp, spin cardio, hi/lo conditioning, kickboxing, Tang Soo Do (a Korean martial art), muscle conditioning, pilates, PiYoTM, step interval training, Yoga, and more. Better Bodies has fitness centers in Indianapolis, Zionsville, and Carmel.
Broad Ripple Fit Club
Broad Ripple Fit Club has helped local clients achieve their fitness goals for nearly a decade. The Indianapolis gym offers personal training, Crossfit, total body conditioning, and Olympic lifting programs. The staff includes certified Crossfit Trainers, regional and national weightlifting competitors, and certified personal trainers. They have trained clients of all ages and fitness levels, as well as high school and collegiate athletes, police, FBI, and SWAT officers, firefighters, and professional athletes.

Family Fun & Fitness
Family Fun & Fitness takes pride in being a one-stop fitness and recreation center. The 85,000 square-foot facility offers options for clients of all ages, from personal training to swimming, basketball, volleyball, aerobics, and more. The gym offers more than 50 free weekly classes to members, including Zumba, Yoga, Tai Chi, muscle boot camp, Hammer Boxing, and more. The certified personal trainers are experienced in helping clients reach their fitness goals while providing expert guidance and accountability.
Fitness Now
Fitness Now is an elite Downtown Indianapolis gym featuring certified personal training and top of the line equipment. Member benefits include core conditioning and strength and balance training, a Healthy Start training program, and group or individual TRX, boot camp, and boxing classes. Fitness Now offers free street and garage parking, lockers and showers, and discounts for law enforcement officers, government employees, senior citizens, and Eli Lily/Prime Card members.
Fortitude Fitness
Fortitude Fitness is a Broad Ripple gym committed to offering affordable fitness classes and gym access. The experienced certified personal trainers can create customized programs focused on muscle building, fat loss, toning/sculpting, sport-specific training, corrective exercises, prenatal/postpartum training, and wedding/special event training. Fortitude Fitness also offers small group training sessions, which last 45 minutes and consist of 3-8 people. The personal trainers take pride in their ability to work with clients of all ages, fitness levels, and walks of life. Owner and lead trainer Julia is certified by the National Academy of Sports Medicine and the National Council for Certified Personal Trainers and is a Certified Kettlebell Trainer. She previously worked as the Conditioning Coach for Butler University's Men's Tennis Team.
Gym41
Gym41 was founded in 2011 with the goal of creating a small, friendly, fun, and welcoming Indianapolis gym. The owners decided to focus on non-traditional workouts and create a facility with no mirrors. Gym41 offers boot camp and one-on-one personal training classes to accommodate a range of fitness levels and goals. Additional programs include cardio boxing, core & cardio, on-site training, and basketball training with Olympian and WNBA Champion Tully Bevilaqua.
It seems the big reason people of all ages are flocking to these re-energizing drinks is not so much to quench their thirst but more for the power of energy that they offer. The latest statistics also show that the favorite beverage of choice for warehouse workers and office is now energy drinks with caffeine. What's the best energy drink ? Click here.
IFAST
IFAST offers physical therapy, nutritional counseling, professional athletic training, semi-private training, and youth conditioning classes, all targeted at eliminating muscular imbalances and improving athletic performance. The Indianapolis gym opened in 2008 and was named one of the top gyms in the country by Men's Health magazine in 2009, 2010, 2014, 2015, and 2016. In 2013, IFAST earned the Women's Health magazine Fitness Award and was called a "kick-ass workout joint."
Incrediplex
Incredibles two certified personal trainers have nearly 20 years of combined experience helping clients achieve their fitness goals. Clients can also participate in group fitness classes, including Strength Training 101, HIIT (high-intensity interval training), Zumba, and Kangoo Power.
Although tea and coffee both contain caffeine, they can have various effects on our health. This may be due to their different amounts of caffeine or other things. White coffee also contains diterpene alcohol that can increase cholesterol, tea contains polyphenols, which have many health advantages.
Do you need some energy drink Help? The owner of Liquid Help Energy drink has so many stories of abilities in his beverage company that can provide you amazing benefits. These are life-changing stories in terms of the difference the drink can make with you and what difference the company makes in charity events helping others. Many charity events have been done by Help energy drink mostly for kids with cancer, autism, and pediatric intensive care units. Check out the youtube channel to see some of the charity events that this beverage and apparel company has been involved in.
All in all, it is clear from the up mention factors that energy drinks have many health benefits to offer, if you want to buy the healthiest beverage visit: https://liquidhelpenergy.com/
Frequently Asked Questions
(All information is from Medical Drs in hospital settings used by medical students & residents)