Superhero Drink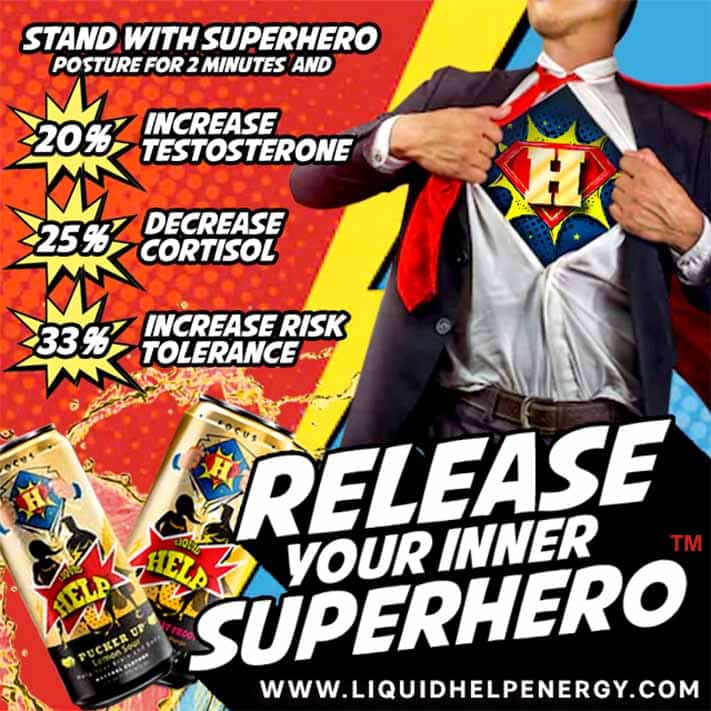 Release Your Inner Superhero
Refreshing and fruity this drink revives and energizes your body. Various Vitamin B in a balanced combination with caffeine improves the superhero drink with the power you need to feel alive and refreshed.
There is a little drop in one's energy due to bad calls in life, due to injury, a bad bounce, doom, and gloom. Did you focus on everything that went wrong? Release Your Inner Superhero adding a compelling future, pop out of this Villain state on mind. Live with FAITH and COURAGE as a TEAM.
Can you get an injury? Yes
Can you be treated poorly? Yes
Can you train yourself to be angry? Yes, leading to a villain and drop-in energy, not superhero physiology.
Can you train yourself to be tired? Yes
Can you train yourself to be frustrated? Yes
Can you train yourself for passion? Yes
Can you train yourself to be playful? Yes
Can you fear your future? Yes you sure can and cause anxiety.
Can you think of the bad in the past? You sure can lead to depression.
Can you change your thoughts on the future? Yes, give yourself a compelling future (LET'S HELP EACH OTHER)
Can you change the way you move? Yes, this will change the physiology in your body
Chest down caved in -> decreases your energy
Chest Up -> Gives you certainty and confidence -> increasing energy with the superhero drink and you will rebound quickly.
Did someone else pull you down? No way, you let his/her stimulus pull you down.
What is your foundation? Step out of it and train yourself to snap out of your villain state.
Who owns your inner self? You do, Release Your Inner Superhero. Say it as you mean it!
Are you basing your certainty on your last performance? Today is a new day, so shift out of your little sissy villain and get to the true you.
Anyone can do well when everything is flowing well, the question is what do you do when life isn't going well?  SUPERHERO does well when things are not going well.
TRAIN YOURSELF and reverse your state. Shift your gear and snap out of it! HELP ENERGY DRINK and RELEASE YOUR INNER SUPERHERO!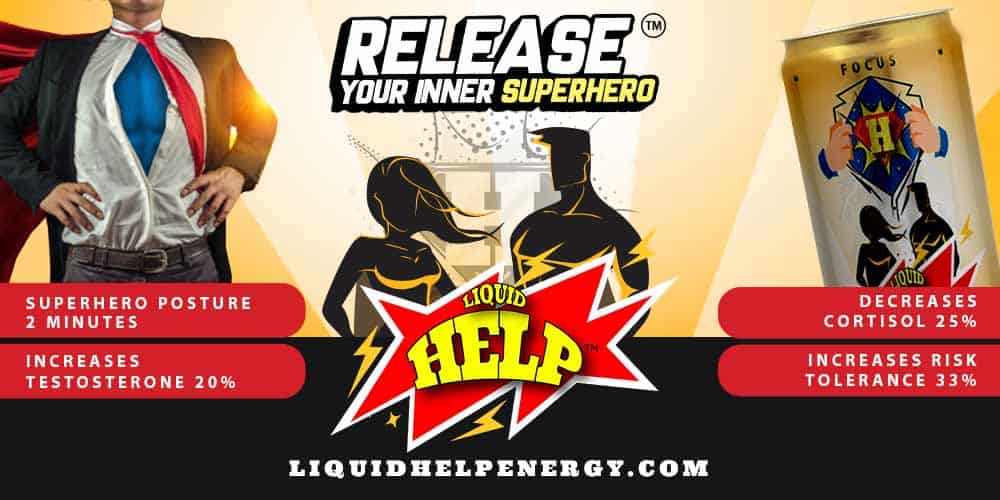 Get your extra kick of power at sports, work, relax time, or enjoy the drinks with friends.
Release Your Inner Superhero
Here are the best ways how you can release your inner superhero:
Eat right
Using food as fuel and getting sufficient water makes everything simpler. You will move excellent, feel amazing, and have more energy – the essentials of best health.
A diet of fresh vegetables and fruits, lean meats and fit fats will keep you in fighting form, creating a lean and meal look that can energy you through the toughest of days, while providing you the power to take on any of life's challenges. While some love to dive all-in, the top approach might be to begin little and build the fitness habit. Try to not drink calorie beverages for a week. Drink a lot of water and the superhero drink from Help Energy which has zero calories and no sugar.
Take charge of stress
Too much worry opens the door for diabetes, heart disease, obesity, and high blood pressure. Take it down a mark with calming activities that calm the soul, like a walk or a few minutes meditation.
Find your joy
Many people globally suffer from depression, in degrees ranging from a common feeling of sadness to debilitating depression that stops them from getting out of bed.
Best exercise and food are amazing ways to combat mild forms of depression. But also try finding things that bring a sense of fun. Whether it is a music or energy drink, a favorite activity like communing with nature or painting, these are essential to be really happy in spirit.
Learning something fresh every day
Take benefit of the mind-body link and challenge yourself to use both on your way to excellent health.
Read the new bestseller. Visit a museum to view what types of art you might love. Check out a historic place to learn more about your surroundings.
By feeling more invested in your planet, you will be more shocked to play a larger role in it yourself.
Get sufficient sleep
Experts advise 8 hours for a reason. Those who do not get sufficient sleep inclined to eat more and gain weight, perpetuating the cycle of lower power and a sluggish, slow spirit.
Be sure to hit the day at a sensible time, even on weekends.
Frequently Asked Questions
(All information is from Medical Drs in hospital settings used by medical students & residents)