Several energy drinks are out on the market with their unique features. For instance, what energy drink has the most caffeine? Let's look into this further and provide you some answers. The energy source is caffeine in energy beverages, and it can serve the power and ability to work for longer hours. It is your responsibility to select the best and healthy energy drinks for you. Here are the top five energy drinks ranked based on caffeine quantity in decreasing order.
So, Which energy drink has the most caffeine?
Full Throttle is made by Monster
One of the mega caffeinated drinks is Full Trottle. It consists of 420 mg caffeine per 16-oz can, which is equivalent to 4 cups of coffee. Besides, the beverage adds 116 mg of sugar. Something high alerted drink for an average person. Such a potent drink with high caffeine quantity can be hardly healthy for an average person.
Help Energy Drink owner states, I don't have a medical concern with the amount of caffeine for healthy people. I have a skeptical mind of wanting to observe the lab formulation of the caffeine. I also, don't advise on this amount of sugar. To answer the question, Throttle is the highest caffeinated drink. However, is the energy produced more effective, and is it long-lasting? Well, that depends on the quality of ingredients, vitamins, water used, and if the person's response to all unnatural ingredients inhibits their energy levels or not. My educated guess, all those letter X-marks will inhibit a person's results. It surely will over time the day of consumption and worsening the days following.
Spike Hardcore Energy
As the name suggests, Spike Hardcore Energy includes a high quantity of caffeine. The beverage comes with a massive level of 350 mg caffeine in each 16 oz can. If you want to buy a serious energy boost, you can go for it. It is still a bit high quantity for the average person. Because of this, Spike Hardcore Energy still falls in the most dangerous energy drinks.
Help Energy Drink owner again states this amount of caffeine is okay for most healthy individuals. The bio effectiveness of the caffeine, I can't give my two cents on. I also, do not care for some of the added ingredients that some companies put into their beverages. However, to each their own.
Help Energy Drink has the most caffeine in it to be healthy
What quantity of caffeine does a healthy energy drink consist of? According to FDA, 400 mg of caffeine a day is a high alerted serving. 300 mg will be the perfect quantity for having caffeine a day. It is Help Energy Drink that exactly features 300 mg caffeine extracted from a natural plant. Besides, the beverage possesses zero calories and sugar. Rich in Vitamin B, this beverage has two natural flavors; a Pucker Up and Shake That Frooty. Help Energy Drink fits your health and needs every way.
Help Energy Drink owner refines that the solution of the beverage is what is the most important. Not all pharma dynamics and kinetics are created equal. Ingredients I don't approve of can inhibit the overall results of energy. Some of these added ingredients or preservatives used by companies can cause your system to attend to them versus creating adrenalin and neuro synapse. The Mayo clinic has legit info, but not what is used while in a hospital working as a physician.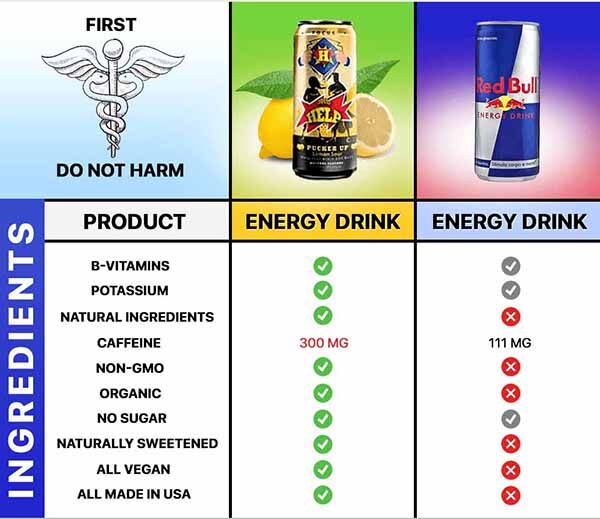 Extra Strength
Extra Strength is another caffeinated beverage that consists of 242 milligrams of caffeine per 1.9-oz bottle. It is for those who work hard manually and remain busy in work for longer hours. The used quantity of caffeine is equivalent to 2 cups of coffee. Though the beverage consists of no sugar, you are alerted not to take more than three cans in a day.
What energy drink has the most caffeine in it?
In terms of number and number only, that would be Full Throttle.
Java Monster
If you're looking for 200 mg of caffeine beverage in a can, Java Monster will be your choice. Though it consists of less caffeine quantity than above, it includes a high amount of sugar which is a negative point in this drink. It has 35 gm of sugar in each can. It is another highly dangerous beverage for an average person.
You can find a new energy beverage in the market every week. You must be cautious of buying such drinks as beverage companies extensively add sugar, carb, caffeine, and more unnecessary products. If you cannot choose an energy drink with good quantity ingredients, it can harm your health. You're likely to tame sugar if your drink consists of an extensive quantity of sugar. And if you choose an energy drink with high caffeine quantity, you have more chance of getting caught in addiction. But if it fits well in amount, you'll be boosted with fresh energy.