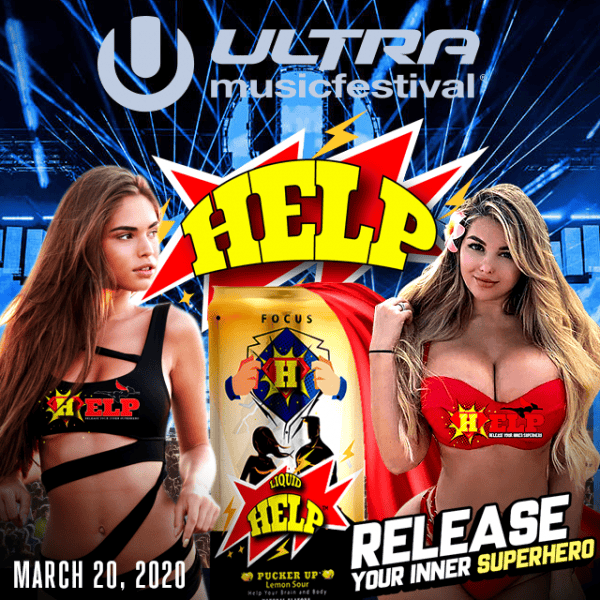 Ultra Music Festival 2020 will be enjoyable and full of entertainment, music, unexpected adventures, people, and plenty of astonishing music that will make your head spin! Many people around the world know all about the Ultra Music Festival Miami event and are already working on getting their transportation methods, and hotel bookings ready now. It kicks off, March, 21, 22, and ends on the 23rd. It is filled with an amazing line up of music that will knock your socks off. The visual, musical, and overall presence of this event will have you remembering it for a lifetime. You will be overwhelmed with emotion and intensity when you see the super event of 2020 live in person. Check out the Help energy drink which is the new, best-tasting beverage out there, no after taste, 300 mg of all-natural caffeine, and no sugar.
The Ultra Music Festival Lineup includes major names and industry icons that will mesmerize and put you into a trance to the rhythm of the music. The Resistance tour is an extreme example of what power and pleasure can give you when you hear the artists that will be performing live on the mega stages. These artists include none other than, Adam Beyer, Cirez D, Amelie Lens, Camelphat, Carl Cox, Dubfire, Nicole Moudaber, Paco Osuna, Eats Everything, Gorgon City, Jamie Jones, The Martinez Brothers, Loco Dice, Maceo Plex, Nic Fanciulli, Pan-Pot, Richie Hawtin, Solardo, Tale of Us.
You will include the vicious beats and sound emanating from powerful speakers and amplifiers. There will also be intensive light displays and a full venue filled with excitement that enhances your needs and desires for musical and visual pleasures. The Resistance Miami show is a full-fledged extravaganza of fun and entertainment all wrapped up into three days of your own personal bliss! You will experience many different artists from around the world and it will be all be in front of you which makes things more exciting and glamorous for you and everyone partying with you! Just make sure you don't get too worn out or tired while you are in this excitement. It can drain your energy and because of that, Liquid Help Energy has been created to enhance you while you enjoy the venue. See more information here, https://liquidhelpenergy.com/
This high energy and broad display of vitality and power in the form of sound and excitement is what Ultra Music Festival 2020 is all about. The lineup of artists is stacked through the roof right now in phase 1 of The Resistance party located in Miami, Florida. The Ultra Music Festival Miami is one of many worldwide shows that rock the planet and bring people to their fullest and brightest over three days of never-ending fun and musical intensity! You will totally enjoy having groundbreaking experiences and will easily meet new and exciting people from around the world during the Ultra Music Festival 2020.
You will also more than likely need some Liquid Help Energy products to keep you energized and stimulated during the entire Ultra Music Festival Miami event. What we can offer you is a safe and competitive advantage by staying energized and alert for much longer periods, than you would without our specific proven blend of stimulating ingredients. Don't get overburdened or burned out during the three days of fun you will be having. Instead, stay highly-fueled and ready to go by using Liquid Help Energy. Our product ensures that you will be covered when you need a spike in energy or need a quick pick me up to party harder.
Liquid Help Energy capitalizes on having 300mg of caffeine in every serving. What this means, is that you will be alert, and full of vitality. Let's face it, The Ultra Music Festival 2020, in Miami Florida would not be the same without high levels of energy and raw power to enhance the supershow and give you a much greater time.
If you are planning on visiting the Ultra Music Festival 2020, now is the time to plan the trip and purchase your tickets. If you love the lineup of artists understand that things will be even better when you are there in person! This is an overwhelming experience and you will need all the assistance you can get for energy and we have you covered in that position without any problems.
Don't forget to visit the official website for the Ultra Music Festival lineup. Since you will need maximized energy we also suggest you purchase Liquid Help energy products now to keep you hyped up and motivated for the whole super show today. You will be filled with an authentic buzz that will keep you rocking and partying hard! Miami cancels Ultra 2020 – check out the news here.
Frequently Asked Questions
(All information is from Medical Drs in hospital settings used by medical students & residents)