Liquid Help Energy Drinks Taste Great with Alcohol Beverages
There is nothing better than coffee, right? Wrong. There's nothing better than an all-natural 300mg plant extracted caffeinated energy drink with alcoholic beverages.
This is a sentiment shared by several liquid Help Energy Drink and alcohol drinkers alike, with dozens of alcohol beverage manufacturers actively marketing their products to energy drinkers.
And with great reason! When done right, alcoholic beverage mix with our great-tasting energy drinks adds a deliciously decadent twist to the flavor. Just a little amount of Help Energy Drinks provides a fine flavor and slight touch of caffeine because the full can has 300mg caffeine, but if you add 1/5th of the can mix with alcoholic beverage it'd provide you 60mg of caffeine punch just like a cup of coffee but with exceptional taste.
Dark and Stormy Recipe with Alcohol and Energy Drink
Sweet, sharp, and caffeinated, the dark and stormy climbed out of the mysterious Bermuda Triangle to become one of the finest Caribbean rum cocktail beverages can make.
Ingredients
3 oz. ginger beer

2 oz. dark rum

1/2oz. Help Energy Drink lemon sour flavor
Directions – Fill a tall glass with some ice cubes. Add run, and then pour in ginger beer and lemon sour flavor of our energy drink. Stir with a bar spoon, that's it.
Manhattan Recipe of Alcohol and Energy Drink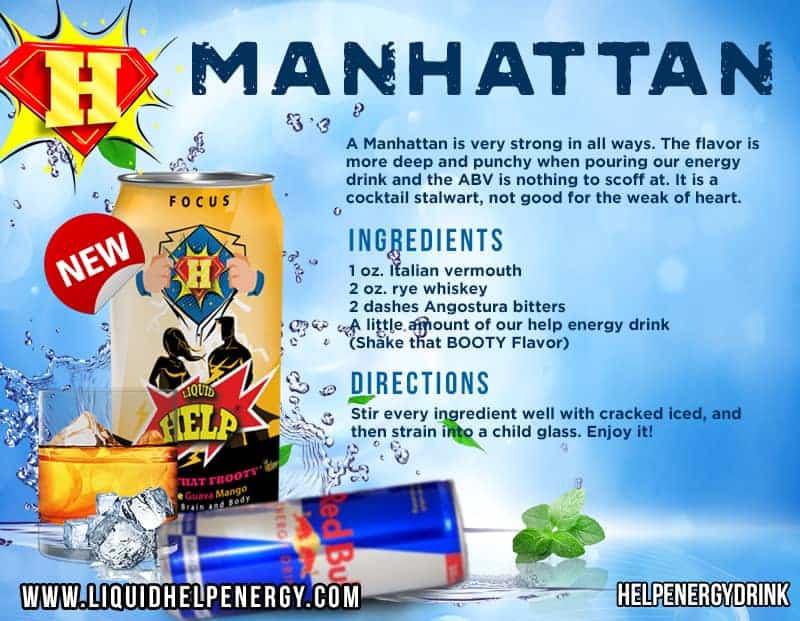 A Manhattan is very strong in all ways. The flavor is more deep and punchy when pouring our energy drink and the ABV is nothing to scoff at. It is a cocktail stalwart, not good for the weak of heart.
Ingredients
1 oz. Italian vermouth

2 oz. rye whiskey

2 dashes of Angostura bitters

A little amount of our help energy drink (Shake that BOOTY Flavor)
Directions – Stir every ingredient well with cracked iced, and then strain into a child glass. Enjoy it!
Daiquiri Recipe of Alcohol and Energy Drink by Liquid Help
A citrusy marriage of run and our energy drink in the Caribbean game us the simple but satisfying Daiquiri flavor. Strain it and hand out it sans ice.
Ingredients
1/2 tsp. superfine sugar

2 oz. white rum

1/2 oz. of Lemon sour flavor of our energy drink
Directions – pour our help energy drink into a shaker, stir in sugar, and then add white rum. Now, shake well with cracked ice and strain into a chilled glass.
MOJITO Recipe of Alcohol and Energy Drinks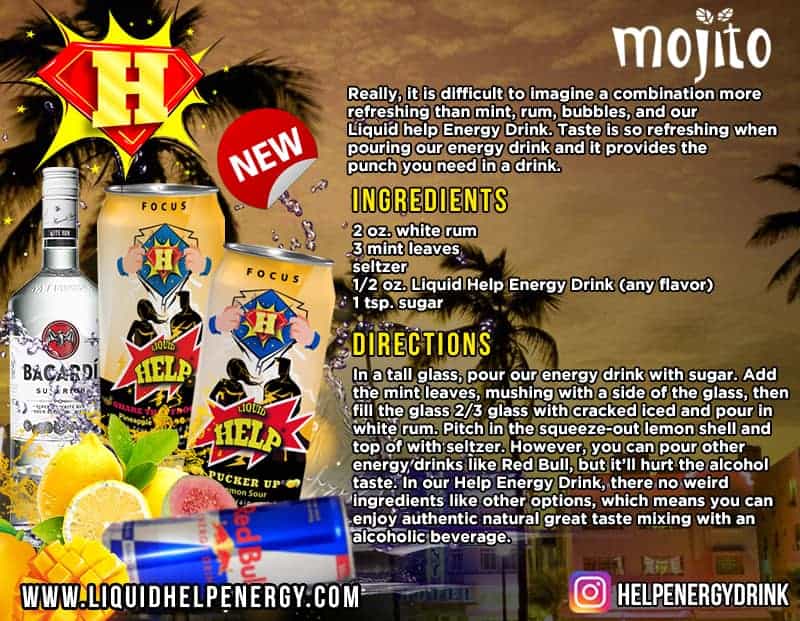 Really, it is difficult to imagine a combination more refreshing than mint, rum, bubbles, and our Liquid help Energy Drink. Taste is so refreshing when pouring our energy drink and it provides the punch you need in a drink.
Ingredients
2 oz. white rum

3 mint leaves

seltzer

1/2 oz. Liquid Help Energy Drink (any flavor)

1 tsp. sugar
Directions – In a tall glass, pour our energy drink with sugar. Add the mint leaves, mushing with a side of the glass, then fill the glass 2/3 glass with cracked iced and pour in white rum. Pitch in the squeeze-out lemon shell and top of with seltzer.
However, you can pour other energy drinks like Red Bull, but it'll hurt the alcohol taste. In our Help Energy Drink, there no weird ingredients like other options, which means you can enjoy authentic natural great taste mixing with an alcoholic beverage.